What is a Meeting Agenda?
In order to have effective meetings it is essential to inform the meeting attendees about the purpose of the meeting, so that they can prepare actively for it. The Agenda is the outline of the topics that need to be addressed during the meeting. This web site is intended to help you create better agendas.
Agenda Formats and Samples
An agenda is often just a simple outline of the topics to be discussed, with their start and end time and the name of the person presenting each topic. Here is an example of a typical meeting agenda structure: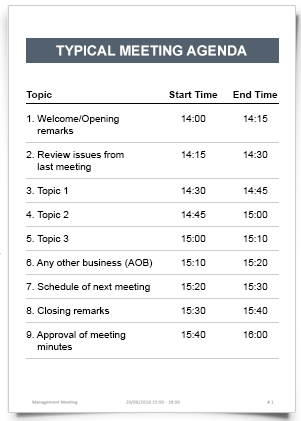 If you are looking for specific agenda templates here are some samples:
To make is easier for you to create an agenda here are a couple of Microsoft Word Agenda templates to download:
Agenda Tips
Review previous meeting agendas for ideas and formats
Collect suggestions for agenda topics from meeting attendees
Transfer unfinished topics from prior meetings
Make sure to include or consider breaks
Confirm with presenters what and when they will be presenting
Prepare and distribute the agenda prior to the meeting
Delegate pre-meeting tasks to help attendees prepare
Make sure to indicate which attendees are required
Consider using Agenda Software to create your agendas
Agenda Software
If you are trying to optimize and streamline your meetings you could consider using an Agenda Software application (also referred to as Meeting Management software). Here is a review of Agenda Software applications.
See here how to make an agenda using MeetingBooster: